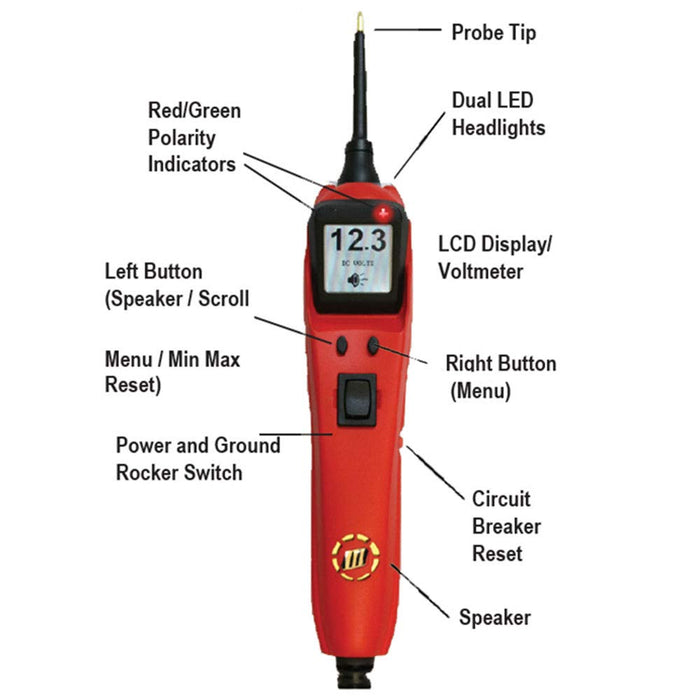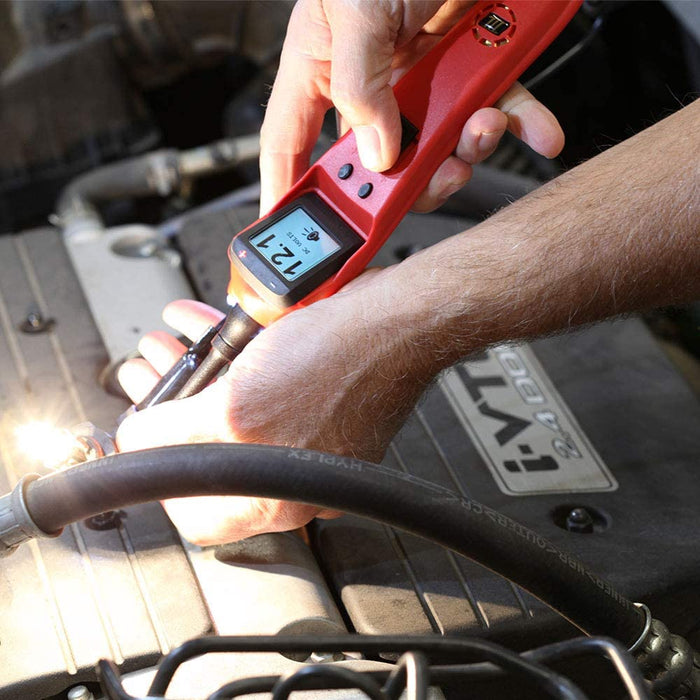 At Power Probe, we believe things should be simple. That's why we design tools to make complex automotive technology accessible for the modern auto technician. As automotive technology continues to evolve, Power Probe will provide innovative Technology, Energy, and Knowledge solutions for technicians and consumers alike.
What does it do?
With the press of a switch you'll have an instant hot lead or ground lead. Use the probe tip and ground lead simultaneously to power up components right in your hand. Instantly check components for continuity as well as identify positive, negative and open circuits without re-polarizing hook-up clips. Locate shorts without wasting fuses.
Power Probe 3EZ
Power Probe 3EZ is an upgraded version of Power Probe 3.
It is a Digital Voltmeter that provides diagnostic power with the flip of a switch. This tool simplifies the testing of fuse boxes, verifies correct operation of motors, lights, relays and wires.
Power Probe 3EZ has color multi-line LCD display.
Furthermore, this tool has a navigation menu and we've added two new menu options: EZ Learning and EZ Diagnostics.
Features:
Easy Learning – Teaches a new user how to use the functions in the tool.

Easy Diagnostics – Guides a user through simple tests such as Battery Testing, Charging System Testing, Fuse Testing, and Voltage Checks. Simply scan the QR Code with your Smart Device.

The easy to read LCD display – Provides easy to see readings with a simple navigation menu to get to what you need fast.

Upside Down? No Problem! With a new flip screen feature, you can see screen readings while holding the tool upside down.

Safety First. The 8 amp thermal circuit breaker provides protection while powering up components, relays or circuits while still allowing inrush current for larger draw components.

It's Menu Driven. The Power Probe 3EZ has a menu driven screen that makes navigating a breeze for easier diagnosing of electrical issues.

This is an essential electrical tool. The Power Probe 3EZ is an all-in-one tool with DC Voltmeter, MIN, MAX, and Peak to Peak mode, along with audio signal capability (AC Threshold).

Storage temperature/humidity: -20 to 70 °C, 70% RH max/Operating temperature/humidity: -10 to 50 °C, 70%RH max/Pollution degree:2